Sean O'Mara Appointed as New Schedule Manager
Oswald is pleased to announce Sean O'Mara will take on a new position within Oswald Company, serving as a Schedule Manager. The Schedule Manager manages overall schedule risk for Oswald, helping to oversee both time and resources to ensure work is completed on time.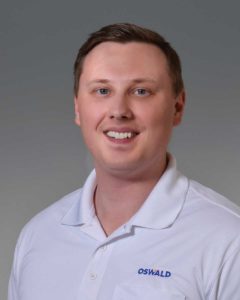 As part of the PreConstruction Department, Sean will work directly with the Project and Construction Managers to implement Last Planner schedules, Lean construction methods, and complete schedule updates on all active construction projects within the company.
 Sean O'Mara first joined Oswald in 2011 starting as a Co-op and most recently served as a Project Engineer. Sean is a young talent that brings fresh insights and ideas. He has proven himself as a crucial team member on several large scale, highly complex projects, including the recently completed
Otterbein LEC West
in Lebanon, Ohio.
According to Oswald President, Bob Wassler, "Sean's keen ability to communicate clearly and thoroughly with all members of the project team and Subcontractors will be an asset in his new role as Schedule Manager." Wassler adds, "By adding a role exclusively focusing on scheduling, Oswald will continue to grow in our dedication to our clients – delivering quality work that is completed on-time."