My First Co-Op Experience, Still Learning Through a Pandemic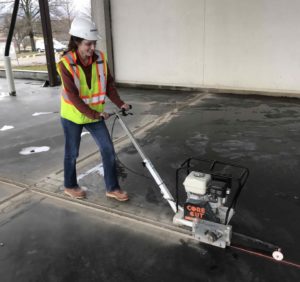 Starting my co-op experience back in January, I didn't know what to expect since I had never been on a job site before. I was very excited to learn about the building process and its entirety. My jobsite is a renovation and addition of the Hill-Rom Innovation Center in Batesville, Indiana. This site was specifically perfect for me because I was able to see the process of a renovation for a building and got to see how new buildings are erected. When I first started my position, it was very eye-opening because I realized all the construction terminology that I did not know. After asking easy questions to some of the subcontractors, I finally got a better hold of the terminology. I slowly gained more responsibility and had a big voice specifically for jobsite safety. The renovation progressed very quickly since I first started and I even got to do hands on learning such as welding, saw cutting control joints, and smoothing concrete. I also got better with talking to professionals and public speaking.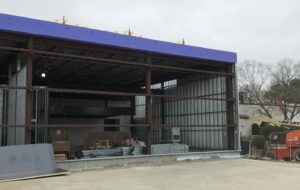 It wasn't until the end of March when everything changed. The dreadful virus was quickly starting to become the key point in my weekly safety meetings and many trade workers were directing questions towards me on how we were handling this. Since Hill-Rom makes hospital essentials such as hospital beds and ventilators, I knew from the beginning that my job site would continue to stay in full force if this virus got worse. The government implemented a 6 ft rule and not for fall protection, but from distance between workers. I led three safety meetings a day to abide to the 6 ft rule and no gatherings more than 10. The virus still got worse and workers were asking me questions left and right about preventative measures and health safety. Oswald took every measure possible, by buying a hand washing station, hand sanitizers, ensuring the 6 ft rule is being followed, and taking temperatures everyday before going into work. My co-op experience had changed tremendously than when I first started, and never did I expect a pandemic to breakout and affect so many people.
After a couple weeks after declaring lock-down and watching the news almost every night, I realized how life changed in an instance. I found that I was washing my hands at work constantly and I wouldn't go a day without talking or hearing about this virus. I was the only person in my household going into work, so getting home and being with my family was something new and unfamiliar. Later one night on the news my dad and I were watching the President speak about the virus. The President started to name and thank companies for increasing production of hospital needs; he mentioned Hill-Rom as one of those companies and it was such a good feeling that Oswald was working directly with Hill-Rom. After the President named the rest of the companies, he then discussed the corona virus hotspots. It was alarming to hear that Batesville, Indiana was one of those locations. I then received a call on my way to work the next morning from my mentor that I should go home after hearing the news.
Since being sent home, I have been trying to work remotely as much as possible. It is a lot harder to work at home, but I've joined conference calls, made calls, sent emails, and read the daily log every day. My co-op experience has change tremendously through this historic crisis, but I couldn't be happier for everything that I had learned up until the virus outbreak and even through it. During these times of the unknown I am grateful that I can stay in my home and still be a part of my job site as much as possible. This was my first co-op work term and it for sure is a memorable one.
About Ali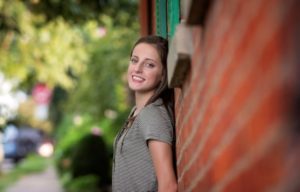 Ali Bischof is studying Civil Engineering at the University of Dayton. As part of her studies, she will complete 4 co-ops over the course of 4.5 years with this spring co-op at Oswald Company being her first. The Cincinnati native enjoys being active and drawing in her free time.