Oswald Adds Project Management Expertise
CINCINNATI, OHIO – May 18, 2016 – Oswald Company, a Cincinnati based development and construction company, announced that it has hired a senior team member as it continues to expand the firm's expertise.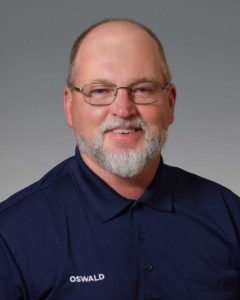 Mr. Chuck Schroeder joins the Oswald team as Senior Construction Manager.  In this role, Chuck is responsible for planning, directing and managing a construction project's daily field operations.  Chuck's expertise includes managing new, fast-track construction and highly specialized Healthcare projects.  With the addition of Chuck, Oswald continues to expand its construction depth and breadth in the healthcare market.  Prior to joining Oswald, Chuck spent 18 years at Duke Realty as Superintendent focused on managing projects in the healthcare, industrial, and commercial office markets.
"We are thrilled to have Chuck join the Oswald team," said Ken Oswald, CEO of Oswald Company.  "As we continue to grow the organization, we brought in a seasoned veteran and individual who understands the leading trends within our industry and specialty markets, allowing Oswald to broaden our expertise to better serve our clients."