Oswald Named Construction Manager for Midmark Corporation New Headquarters
Os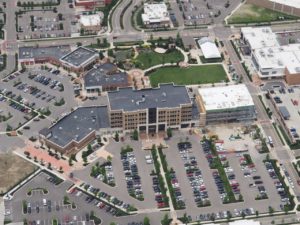 wald Company, Inc. has been named as the Construction Manager to buildout Midmark Corporation's new headquarters at the corner of Penny Lane and Rigby Road at Austin Landing in Miamisburg.
In late 2017 Midmark, a provider of medical, dental and veterinary healthcare equipment, announced plans to relocate 20-30 positions from the current Dayton location, including members of their C-suite, finance and clinical affairs departments, to the new facility. Midmark's footprint will include 13,000 square feet of office space on the 3rd floor, with an open floor plan concept, large conference room, small café and an outdoor balcony.
The office will also feature a place for corporate training and off-site meetings, as well as, drop-in space for future growth. "Our new location at Austin Landing will work well for us as we consolidate our north Cincinnati office with the Dayton headquarters and offers an excellent combination of geography and amenities that are important for our teammates," stated CEO John Baumann.
Larry Dillin, president of VisCap Development, which manages Austin Landing, shared, "Midmark is an exciting and important piece of the continued growth at Austin Landing. Their presence will build on the already robust business activity in the development and is an incredible addition for our retail neighbors and Miami Township." Additional tenants for the 3-story, 39,000 square foot building have not yet been announced. The second floor of the building will also accommodate an office tenant and the first floor is being outfitted as restaurant space and includes an 800 square foot patio. Construction is expected to be completed in October 2018.
This will be Oswald's 28th project at Austin Landing, including the five-story, 135,000 square foot Building LF, which includes four floors of Class A office space along with one floor of Class A retail space, Bar Louie and the Cinepolis at Austin Landing multiplex Cinema.