Oswald Promotes Project Engineer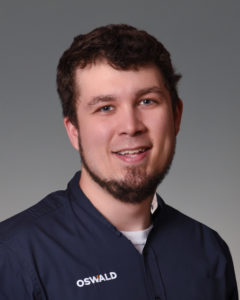 Oswald Company, a Cincinnati based development and construction company announces the promotion of Zach Bradford to Construction Manager. Zach joined Oswald four years ago as a Project Engineer.
As a Construction Manager Zach is responsible for planning, directing, and managing the daily field operations of a construction project. He is responsible for conducting daily safety checks for trade partners as well as maintaining a clean and organized job site. Zach also monitors the schedule and ensures project milestones are met. Zach is currently overseeing the Thompson Hine office renovation in Downtown Cincinnati.
Wayne McMillian, Oswald's VP of Operations states, "Zach's dedication and hard work over the years has set a strong of example for our co-ops and younger generation. We look forward to his continued success at Oswald."