Recognizing Women in Construction Week
March 7-13 is Women in Construction Week 2021 hosted by the National Association of Women in Construction (NAWIC). NAWIC was founded in 1953 by sixteen women working in the construction industry. Today the organization has over 115 chapters across the United States and provides professional development, education, networking and leadership training opportunities to all of its members.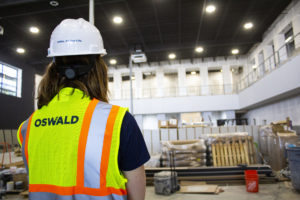 The goal of Women in Construction week aims to celebrate women in the industry as well as "highlight women as a viable component of the construction industry." The number of women in construction has steadily increased over the last five years and in 2020, women made up 9.9% of the industry. Oswald is proud of the fact that women make up 28% of the firm's total staff and represent 33% of the leadership team.
The demand for women in the industry continues as some experts are predicting that 29% of the construction workforce will retire by 2026. Another driving factor to enter the industry is that on average women make 99.1% of what men make, which is 10% higher than what women in other industries face.
As women look for roles in construction, there is a wide array of positions in the field and in the office. All of the roles have unique responsibilities and different day-to-day activities.
Project roles:
Project Manager: Oversees the overall project and ensures it is completed on time and within budget. Project Manager's often manage multiple projects at a given time working with several clients and architects. This person is frequently going between multiple jobsites and the office, sometimes in a given day.
This role is ideal for someone who enjoys problem solving, working with clients and multi-tasking.
Construction Manager: Responsible for the day-to-day activities on the jobsite and ensures all OSHA regulations are followed. This person spends all their time on the jobsite working with trade contractors.
This would be a great job for someone that enjoys working with clients and trade contractors, is very organized and can communicate well with others.
Project Engineer: Work closely with the Project Manager and Construction Manager to coordinate the schedule and works closely with Architects to manage Request For Information (RFI's). This role works in the office 50% of the time and the other 50% in the field.
An individual in this role is detail oriented, multi-tasker who works well in a team atmosphere.
Preconstruction Engineer: Responsible for developing bid packages with trade contractors. Spends most of their time in the office but is regularly in the field for project walk throughs.
This role is ideal for someone who can work under pressure, detailed oriented and very organized.
Client & Office roles:
Business Development: Leads Oswald's client and economic development initiatives. Works with existing Oswald clients and prospective clients.
This is a great role for someone who enjoys networking, learning about new projects and staying up to date with industry trends.
Accounting: Oversees billing and payment to Oswald trade contractors. They work closely with a variety of individuals including the Oswald project team, clients and business partners. This person works with the construction team to monitor costs throughout the construction lifecycle.
This role is ideal for someone who enjoys construction but not necessarily the technical side.
Marketing: Complete requests for proposals and manage all of Oswald's marketing material. While this role is mostly office based, they frequently visit jobsites for photos and videography projects.
This is a great role for someone who can work under pressure, is creative and can multitask.
Office Manager: Manages the day-to-day operations of the office. They help manage budgets, research, and produce reports. This is a great role for an organized and task oriented individual.
Preconstruction Engineer Kate Richey co-oped with Oswald for several semesters before accepting a full-time position. Kate states that "Co-oping in both the field and office allowed me to see both sides of the construction industry. By working in the preconstruction department, I am able to work on a variety of projects and visit jobsites frequently." When asked why she enjoys the construction industry, she said "What I like best is how projects begin as napkin sketches and spitball ideas and turn into fully executed buildings in a matter of months. The results are tangible and we can actually see the work we've done."
While there are many advantages to working in the construction industry, women reap even greater benefits in the industry. From the variety of roles to the demand in the work force, women should consider the construction industry.
Sources:
https://www.nawic.org/nawic/Statistics.asp
https://discover.byf.org/what-will-happen-when-the-baby-boomers-retire/?utm_source=Internal%20Links&utm_medium=BYF%20Blog